As I mentioned in this post, we received a personalized Great Lakes quilt from Haptic Lab for Christmas. In addition to tugging on my Michigan heart strings, it is a really beautiful quilt that I want to display by hanging on a wall in our house. The quilt is 52" x 72" so we need a big wall to hang it on and, right now, I am liking the idea of hanging it along the stairs. The wall is large and blank and would be otherwise hard and sort of awkward to fill with art. The downside is that it would be difficult to fully appreciate the quilt as you were coming up the stairs. Although, the view of it would be perfect from our little eagle's nest entrance into our bedroom...
To decide how to hang our quilt I, of course, turned to Pinterest for inspiration. It seems that an undetectable means of hanging quilts/tapestries is perhaps the most popular.
This system is nice in that it doesn't detract from the quilt. It also keeps the quilt snug to the wall which will important for us if we choose to hang ours along the stairs. Another option would be to use a rod.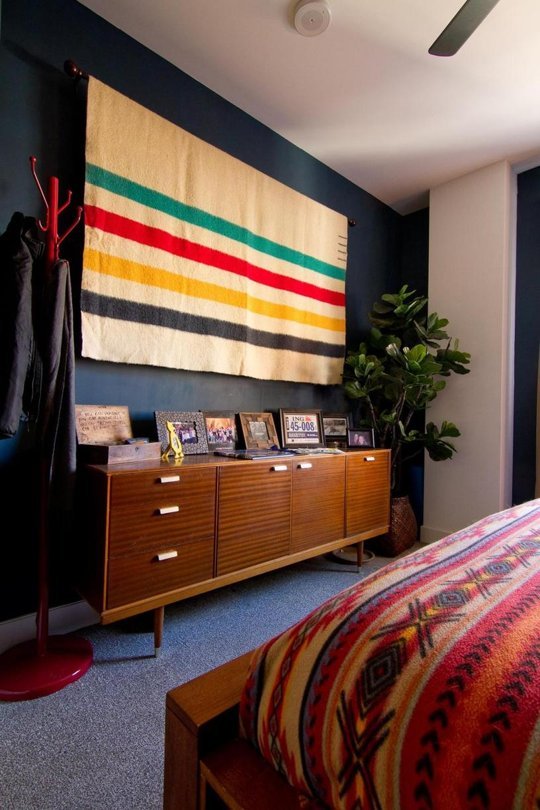 I like how a rod looks but I worry about the quilt hanging too far off the wall. I also would need to find just the right one which could end up being more costly.
Another expensive alternative would be to have the quilt framed.
I really love how this looks especially in the lucite but it would be SO expensive. Also it is sort of nice to be able to touch the quilt.
A final option is to use hardware whether that be clips or something like the pictured below magnetic bar.